After a day of football and beer, I've come to the realization that we need a college football coach sumo wrestling playoffs. Forget the real football playoffs, this is what the people need.
And we have two great potential finals contests:
Kansas' Mark Mangino
vs
Maryland's Ralph Friedgen: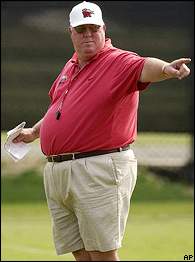 Darkhorse contest, fatty Charlie Weis:
And our host?
(there is so much going on in that picture, must resist comments on Majerus leaning over, or his bulge) Majerus always looked huge, but compared to Ralph or Mangino, he looks darn near svelte.